Wool
Firstly, you need wool. The wool will be dependent on what you will be making. I first started wet felting vessels. With vessels, the type of wool is not so important as long as it felts and you are not overly concerned with your outcome. Making vessels is a good way to learn how to wet felt and learn about wool. You want a strong felt for vessels. When making wearables, you will want a good quality, soft wool. Most people use merino. There are different weights of merino. To simplify it, there is merino that is readily available in a heavier weight and superfine merino. The weights vary according to retailer. The lower the number of microns, the finer the merino is. You can make a very nice, soft felted scarf with a higher number of microns, but it will be even softer if the micron is lower. I have made lovely scarves with 23 mic merino as that is what I have. It depends on how you lay it out. Fancy fibers like silk are nice, but not essential to make a pretty scarf. I personally like sari silk as there are a lot of threads in there and they make a nice texture. I think that is enough about wool and fibers. You need wool to make felt. That's really it.
Water
Secondly, you need water. Water is essential in felt making. I used to use warm or hot water to start the process in the wetting out, but it doesn't matter if it is cold and I only use cold for nuno felting to start. If you are not careful, you can end up using a lot of water in the felt making process. I try to be as economical as possible with water. My rinsing water is put on the garden or in the watering can I use for washing the dog wee off of the patio. Some of it even goes back into the water butt, except for the vinegar water as vinegar kills plants. I put that on the weeds in the patio too. I use large bowls or the washing up bowl to contain the water so it doesn't all go down the drain. Some people even use rain water to make felt. What ever clean water is useful.
The water needs to be contained in some way and dispersed. This is what I use.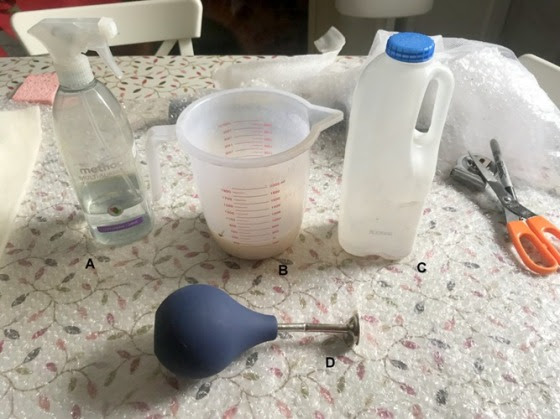 It is good to recycle whatever you can. Early Feltmakers did not have fancy tools and equipment. They used what they had.
A. I have a spray bottle filled with clean water. It gives a fine spray and is useful for spot wetting or laying a fine mist on your wool or decorative fibers to hold them down a little so they don't fly away.
B. A plastic jug I got from the pound store. It fits the microwave so I can heat up water. I use it a lot. I will also squeeze excess water back into it and re-use it. You can also use any large bowl you have.
C. A milk container. I poked some holes in the top to use as a sprinkler. I use this a lot especially when nuno felting. This won't fit in my microwave because it is too tall. As the plastic is thin, it is not suitable for holding very hot water. If I have any water left over, I will store it here for re-use. You can use any plastic bottle and put holes in the lid. I will eventually replace this with another one as the plastic will get distorted. I do not drink soft drinks or use any plastic bottles except for milk although it is difficult to avoid plastic, so to re-use them if possible is good. At least it can be recycled.
D. A ball brause sprinkler. Do you need it? No. A recycled plastic or glass bottle is fine. Would you want it? Probably. It is a very cool tool. I ordered one from the UK and one from Italy with a wool order. They are not cheap. These were initially used for watering Bonsai plants. They do wet out nice and evenly. Do not spend money on one of these when first starting out as you may decide wet felting is not for you. I got mine because I had an extra discount which brought the price down.
Soap
You need to add soap to your water. I think you need soap as a lubricant as most of the wool has been washed and the lanolin has been removed. I have seen felt being made from unwashed wool where no soap has been used. In any event, the soap helps the fibers bind together, thereby making the felting process a bit easier. The type of soap used is a personal choice. Use what you have if you don't want to spend money on a special soap – especially if you are just starting out. Many people use olive oil soap. Olive oil soap does not lather as much as other soaps and is easy to rinse out. It is also kind to your hands. It is probably one of the most natural soaps you can buy. You can buy a large bar of it for not a lot of money from Wingham Wool Works. I buy two large bars at a time when placing a wool order since I have to pay postage anyway. I pop it into the microwave for 30 seconds to soften it a bit and cut a slice off. I have seen the same soap sold elsewhere for a lot more money. Shop around.
I also use washing up liquid as above. It has no perfume or color. I just use a little, sometimes on my hands when doing some rubbing or fulling. The bottle above is actually quite full of water as we had run out of washing up liquid to doing the actual washing up. I will use every last drop of it. When the bottle is empty, it will make a good container for wetting out. I should mention that when I need fresh water for my felting, I will get the olive slice and put it in the jug. I then fill the jug half way with hot water from the kettle and top it up with cold water. The water will still be very hot. This helps with my soap solution for felting. Some people prefer to rub the soap on the netting after it is wet out. There are other ways of making a soap solution. For me, it doesn't matter as I will pull out the soap bar once the water has cooled down and will use it if my piece is not soapy enough. You don't want too much soap, but you need enough to be able to slide your hands over the wool easily.
Once you have wetted out your wool, you will need to rub it. However, to make that easier for you, it is a good idea to cover the wet wool with a net of some sort. I found some net material from the charity shop that works for me. I also have some tulle. Some people use old net curtains, or just clear plastic. To help disperse the water, after using my hands, I also use a sponge. It sucks up excess water and disperses it into area that need more. Sponges are inexpensive and you can pick up netting cheaply at charity shops if you haven't got any at home.
Friction
Thirdly, you need friction. This is where people will try and sell you things. There are so many expensive tools you can buy, most of which you don't need. The felting and fulling process require friction of some kind. There will be rubbing and rolling. You will not be able to avoid it. Some tools actually help with this process, but you don't need to spend a fortune if you can find things in your kitchen cupboard or at the DIY store.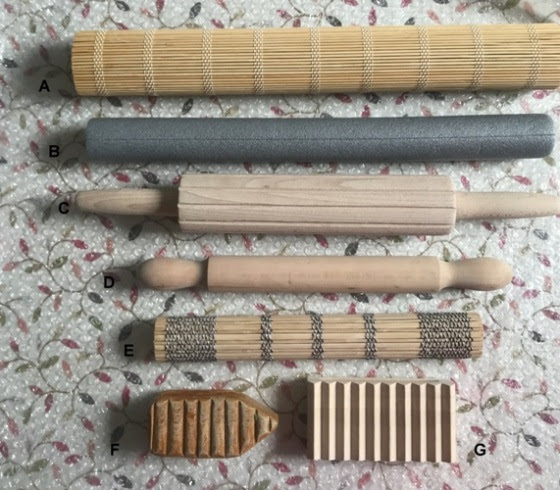 Here is some of what I use.
A. A bamboo mat. This type of mat is excellent for making ropes for bags, etc. I only bought this recently when I went to George Weil. If you can find an old bamboo blind or mat from the charity shop, that would be great. I have never been able to and I don't live near Ikea. This one wasn't too expensive.
B. Pipe insulation. This comes in a variety of lengths and widths. We had some leftover from a project. It is very useful as a roller. You can also use a pool noodle, but I think this is cheaper. I have this one and a longer one for wide scarves. These are relatively soft and gentle on your make.
C. Ridged Roller. Do you need this? Probably not. This is a specialist tool I purchased from Wingham Wool Works. I think it was about £11. The center moves independently from the handles. I have used this to get a nice hard felt on some hats and vessels. You can get more expensive versions of this from other places.
D. Rolling pin. I purchased this from Poundland, for £1. I use this for my small makes. The handles are also very good for spot rolling and getting into crevices. Although I already have a rolling pin, which I have used for felting, I like to keep my food things separate from my felting things. I bought a little rolling pin because I liked using the thinner roller. You can also use plastic rolling pins.
E. Bamboo mat. I couldn't find the smaller sushi mats like the big one above, so I bought a set of these very cheap. The bamboo is flat instead of round. They are good for felting small items and can be used around the pipe insulation or a rolling pin if you need to get a nice hard felt.
F. Fulling tool. Do you need one of these? Probably not. I got this as a gift when I ordered some silk online from an Etsy shop. It is hand made. I love this tool. It fits my hand perfectly and the shape makes it easy to get into corners. I love it for hats. If you could get one similar as a reasonable price, I would recommend getting one or similar.
G. Fulling tool. Do you need one of these? Probably not. I purchased this from Wingham Wool Works. I had the hubs sand it down as the edges were a bit rough and sharp. I haven't really used it as it catches on the netting. I need to sand it down some more. It is like a mini wash board. Speaking of which, some people use wash boards. I looked at them online and they can be quite dear.
Bubble wrap. Bubble wrap cannot be recycled. However, it is good to use for your wet felting. The bubbles help with friction and you can use it as a rubbing tool if you scrunch it up in your hands or gently rub your piece on the bubbles. Do not throw it out if you can help it. It is still good if any bubbles pop as plastic is a useful resource for your felting needs as it can also protect your work surface. You can also re-use it for packaging. Sometimes I wrap my little fulling tool in bubble wrap if I need to full something gently.
Not shown, but something I feel is essential for me is a sander. Yes, I sand my felt. It is not a new thing according to some of the books I have. However, you can thank the Russian felters for making it a thing. It saves so much time rubbing. The friction and heat of the machine really help with the process, especially with nuno felting. I have a very basic flat sander I got from Screw-Fix. You need a vacuum to help it suck up dust, so no need to fill in holes. I think my sander cost £15. My husband chose it for me.
People will have their favorite bits of kit. I am showing what I have. When you first start something you want to get everything. Suppliers will sell you anything, even bubble wrap! As I said, retailers need to make money. I sometimes use a paint tray I bought from Poundland. I use it for small vessels as it contains the water and the ridges are great for fulling. Do I need it? No! I like it because I heard that it could be a good thing and I keep it because it works for me and it only cost £1. It also doesn't take up too much room, so I can use it on the dining table.
So, what do you use for felting that you can't live without or that you just found in your house?
---